What the outcome will be for Titanium dioxide Market?
2015.11.11 08:44
In middle September, the long-awaited "golden nine silver ten" market demand season did not Ruqierzhi, is expected to pick up did not come, the national market supply and demand continues to deteriorate, the domestic titanium dioxide market this year "comeback" the possibility of another being questioned.
After a "losing streak", did not reach the expected favorable domestic market in September, the price of titanium dioxide in the domestic market is still in decline. The sulfuric acid method of rutile and anatase titanium dioxide mainstream quotation were 10100 yuan/ton and 9500 yuan/ton, part of the rutile type products has fallen below 10000 yuan/ton.
According to customs statistics, the first 8 months of this year, China's import and export value of 15.67 yuan, down 7.7% over last year. Among them, exports 8.95 yuan, down 1.6%; imports 6.72 yuan, down 14.6%; trade surplus of 2.23 yuan, expanding 80.8%. In August, China's import and export value of 2.04 yuan, down 9.7%.Among them, the export of 1.2 yuan, down 6.1%; imports 836100000000 yuan, down 14.3%; trade surplus of 368030000000 yuan, expanding 20.1%.
Titanium dioxide, the international market could not be spared, 2015 in July, titanium dioxide export quantity 46522 tons, 12.74% year-on-year drop, annulus comparing rises 5.21%; the amount of $86409780, down 19.12%, the growth of 4.39%; by the end of July, 2015 total exports of titanium dioxide 318709283 tons, down 3.03%, the cumulative amount of $599565480, year-on-year decline 11.18%. July the most obvious feature is that the export unit price of titanium dioxide this month is basically a downward trend, compared with the previous month, the unit price of exports fell, and then the low price, the international market demand has not significantly improved. Details like figure: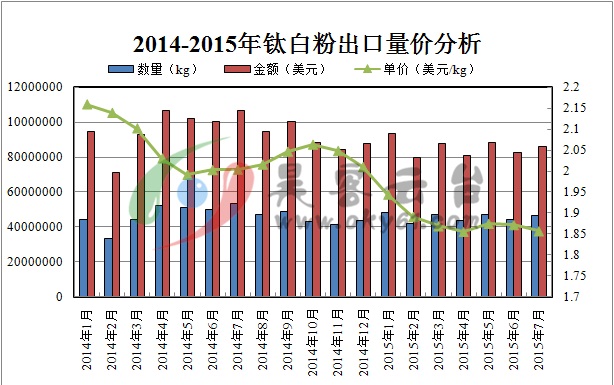 In the domestic economic growth slowing economic background, there is a case of market of extremely weak, the domestic titanium dioxide market can be said is encountered "Binghuoliangzhongtian", the price war had already started, many enterprises face closed down production, some enterprises manage to maintain, the industry as a whole are in a critical period of transformation and upgrading will eventually have many enterprises will be off the market rules, at present is still unknown.
The economic situation is not optimistic, the weak market demand, "Binghuoliangzhongtian" titanium dioxide market will usher in what the outcome, can make a comeback?
By Betty